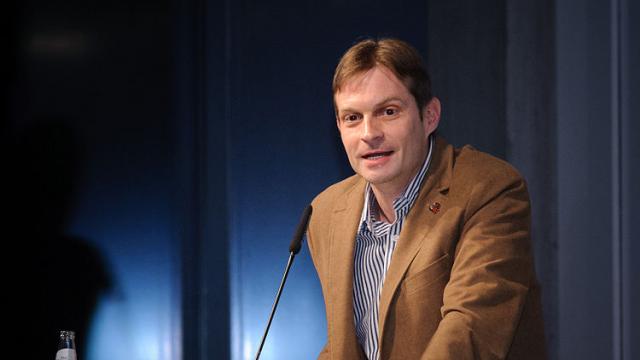 Picture:
Srdja Popovic
the face of betrayal of the People's Movement
PLEASE REMEMBER IF IT WERE NOT FOR JEREMY HAMMOND WHO IS NOW SERVING 10 YEARS IN PRISON WE WOULD NOT HAVE THIS INFORMATION - SALUTE JEREMY HAMMOND A HERO OF PEOPLE'S MOVEMENT FOR DEMOCRACY AND JUSTICE.
See Also :
http://democracyandclasstruggle.blogspot.co.uk/2013/06/fakeing-revolution-otpor-promoting.html
http://democracyandclasstruggle.blogspot.co.uk/2013/12/wikileaks-info-on-canvas-otpor-from.html
Serbia's
Srdja Popovic
is known by many as a
leading architect
of
regime changes
in Eastern Europe and elsewhere since the late-1990s, and as one of the co-founders of Otpor!, the U.S.-funded Serbian activist group which overthrew Slobodan Milošević in 2000.
Stratfor said Popovic's main use for the firm was his vast array of grassroots activist contacts around the world.
To understand how Popovic came to aide Stratfor in its intelligence-gathering efforts, it's crucial to examine Otpor! and CANVAS critically. A close examination demonstrates that Popovic was a natural choice to be a Stratfor informant and close advisor.
"The lead role was taken by the State Department and the U.S. Agency for International Development, the government's foreign assistance agency, which channeled the funds through commercial contractors and nonprofit groups such as NDI and its Republican counterpart, the International Republican Institute (IRI)."
Critics point out that what happened in Eastern Europe was regime change, not revolution in any real sense of the term.
"Modern tactics of electioneering were employed to cast regime change as populist, which took advantage of the unstable and vulnerable situations in those regions following the breakup of the Soviet Union," he wrote.
"Srdja is someone I've met more than once. He was very supportive of the Bahrain revolution, supportive of the human rights fight," Alkhawaja said in a phone interview. "When he gave me their information, that's what surprised me the most."
An interview with Popovic sang a different tune about CANVAS. He stated, "We definitely wouldn't jeopardize any of our activists' safety, so we always follow their lead and never expose them to anybody without their consent."
Popovic also said CANVAS would speak to anyone and everyone—without any discrimination—about nonviolent direct action.
"CANVAS will present anywhere — to those committed to activism and nonviolent struggle, but also to those who still live in the Cold War era and think that tanks and planes and nukes shape the world, not the common people leading popular movements," he said.
"If we can persuade any decision maker in the world, in Washington, Kremlin, Tel Aviv or Damascus that it is nonviolent struggle that they should embrace and respect – not foreign military intervention, or oppression over own population – we would do that."
Yet, given Popovic's track-record—and specifically, who buttered his bread during the long professional career he pursued in activism—critics say Popovic fit like a glove at Stratfor.
- See more at:
http://www.occupy.com/article/exposed-globally-renowned-activist-collaborated-intelligence-firm-stratfor#sthash.29nTGCob.dpuf
http://democracyandclasstruggle.blogspot.co.uk/2013/06/fakeing-revolution-otpor-promoting.html